Recently, while browsing the shelves of my local used bookstore, I came across a particularly beautiful copy of Little Women by Louisa May Alcott. The illustrations were what caught my eye immediately and encouraged me to buy it. I've been reading it for a while now, and I've fallen in love with the charming writing style and vivid characters. It appeals to many of the sensibilites that drew me to Lolita fashion...


These are just the color illustrations. There are some even more beatiful B&W pen and ink illustrations that I haven't had the opportunity to scan yet. All illustrations are by Louis Jambor.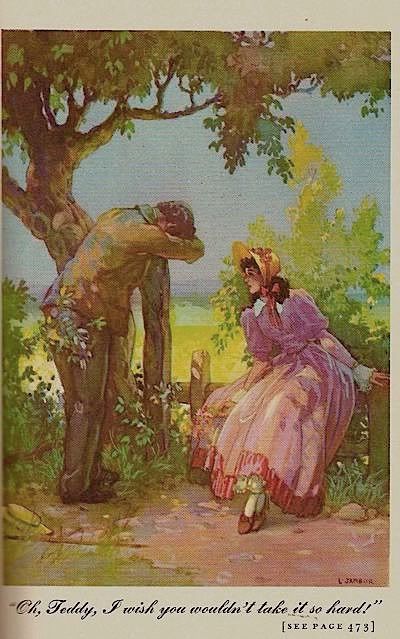 A sample from the chapter "Meg Goes to Vanity Fair" (p. 118-119)...

"On the Thursday evening, Belle shut herself up with her maid; and, between them they turned Meg into a fine lady. They crimped and curled her hair, they polished her neck and arms with some fragrant powder, touched her lips with coraline salve, to make them redder, and Hortense would have added "a soupçon of rougue," if Meg had not rebelled. They laced her into a sky-blue dress, which was so tight she could hardly breathe, and so low in the neck that modest Meg blushed at herself in the mirror. A set of silver filigree was added, bracelets, necklace, brooch, and even earrings, for Hortense tied them on, with a bit of pink silk, which did not show. A cluster of tea-rose buds at the bosom, and a ruche, reconciled Meg to the display of her pretty white shoulders, and a pair of high-heeled blue silk boots satisfied the last wish of her heart. A laced handkerchief, a plumy fan, and a bouquet in a silver holder finished her off; and Miss Belle surveyed her with the satisfaction of a little girl with a newly dressed doll.
"Mademoiselle is charmante, três jolie, is she not?" cried Hortense, clasping her hands in an affected rapture.
"Come and show yourself," said Miss Belle, leading the way to the room where the others were waiting.
As Meg went rustling after, with her long skirts trailing , her earrings tinkling, her curls waving, and her heart beating, she felt as if her "fun" had really begun at last, for the mirror had plainly told her that she was a little beauty."

The writing is just so lovely! I can't describe it well enough. I thoroughly enough the way Meg, Jo, Beth, and Amy interact. Little Women is often viewed as a stuffy book that mothers try to force on their daughters, but it's really worth it! Pick up a copy if you have some free time!